Established in 2007 in Fairfax, Virginia by David R. Heffelfinger and serving the greater Washington DC area, Ensode Technology, LLC is commited to excellence. Our consultants have extensive experience developing enterprise software applications for commercial and government agencies. Providing value for our customers is our number one goal.
At Ensode Technology, LLC, we never lose sight that if our customers are successful, we are successful, and that a satisfied customer is our best asset.
Contact us to speak with one of our expert consultants and find out how we can help make your project a success.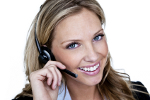 Ensode Technology, LLC
(571) 249-3901
info@ensode.com